Mantas Valentukonis (b. 1998) is a young generation painter, in whose canvases the spaces of reality and digitality overlap. The matrixes of realism and virtuality in Mantas' works are in a certain sense in conflict – the planes of the picture that often collide are separated by different painting techniques, thus highlighting the visual and conceptual difference between the two. However, the figures seen in the canvases are almost always digital, not belonging to the realm of physical reality alone. Such play of vital and non-vital elements of the picture seems to create a transductive relationship – transferring information of a different nature between the selected motifs. The narrative of the painting that emerges from this relationship also includes at least two different planes – the one of digitality and one of the reality. In some of Valentukonis' paintings, a white-gray grid adopted from computer image editing programs can be seen, suggesting the absence of the image background. Arranged on the edges of the canvas, it seems to extend the plot of the painting beyond the frames of the physical format of the painting or indicates that it functions separately from the environment surrounding the painting, in a unique in between and betwixt painting space. The interplay of pictorial intimacy and digital anonymity in the artist's canvases also determines the duality of the depicted characters: they are neither purely physical, nor technical, neither real, nor virtual, nor completely original, nor reproduced, and the viewer is given the pleasure of recognizing that what causes admiration, is merely an illusionistic visual effect, the artificiality of the artificial. By experimenting with different media and technologies, such as image processing programs, computer games, CGI, photogrammetry or augmented reality, the artist searches for visual language as a work of art.
Mantas Valentukonis completed his bachelor's studies in painting at the Kaunas Faculty of the Vilnius Academy of Arts in 2023. The artist participated in exhibitions such as The Lithuanian Artists' Association Quadrennial "LTQ'23: Communities" at Arka gallery, Vilnius; Drifts at Drifts, Vilnius; Younger Painter Prize finalists' exhibition at Radvila Palace, Vilnius; Surface Condition at KKKC, Klaipėda; Other energy, curated by Andrius Zakarauskas at Energy and Technology Museum, Vilnius; Counter-Argument V, curated by Vita Opolskytė-Brazdžiūnienė and Kazimieras Brazdžiūnas at Meno Parkas gallery, Kaunas, etc.
Upcoming exhibition of his work will be held at Drifts gallery in 2024.
Please contact us to enquire about available works.
Mantas Valentukonis
Command_Expo, 2023
Mantas Valentukonis
Man Eater, 2022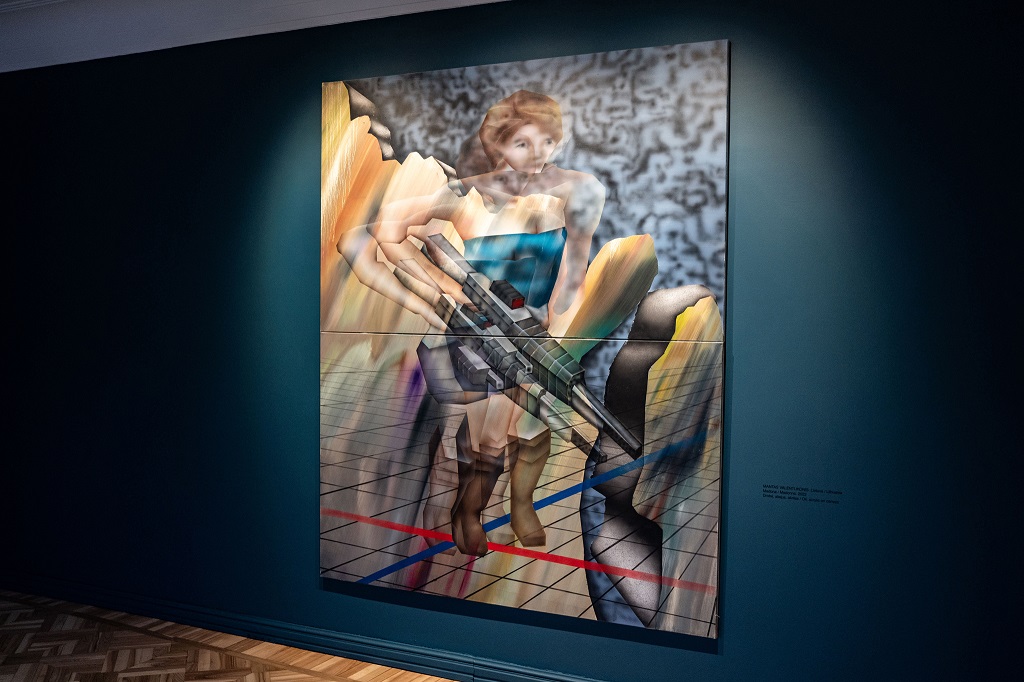 Exhibition view: Young Painter Prize finalists' exhibition, Vilnius Picture Gallery, Vilnius, Lithuania.
Photo by Augustinas Žukovas
18 November 2022 – 29 January 2023
Mantas Valentukonis
Madonna, 2022
#Save the Date. ArtVilnius'23 : Solo presentation by Mantas Valentukonis. 13-15 October 2023.
Please contact us to arrange the preview of Mantas works at the gallery.